Four out of this contest's first 10 winners may have been from Europe, but only nine more were crowned in the decades that followed. That even counts Russia's dethroned 2002 titleholder, Oxana Fedorova. Since the abolition of the short-lived continental format, the struggle has become more apparent. Over the last two years, only France and Great Britain have consistently earning nods, leaving stunners like Bianca Tirsin (Romania 2020) and Kedist Deltour (Belgium 2021) out in the cold. We'll never run out of theories to try to explain the disadvantage, but we're grateful they're still trying.
Two of the withdrawals this year are European (though one country's geographically Asian).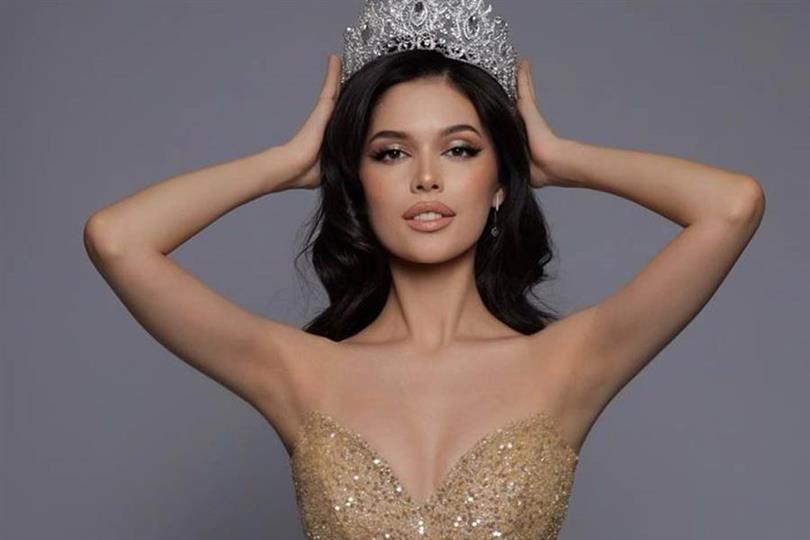 First is Kazakhstan's Diana Tashimbetova, who had a falling out with her local organizers over lack of support. The sad irony's that she's currently in the U.S.
The other would have marked Latvia's long-awaited comeback since 2006. Sadly, Kate Aleexeva tested positive with COVID-19 with symptoms right before her departure. That whittles Europe's total delegation this year to 25.
ALBANIA – Deta Kokomani. For a relatively new mainstay, this country has a decent track record. Now, meet their 20th representative. This pharmacist has striking enough features to earn notice, but a placement will likely be a struggle.
ARMENIA – Kristina Ayanian. This philanthropist already has the fanbase, thanks to her viral footwear malfunction in Miss Grand International 2021. Seems that her catwalk has improved since then, but it will still be a tough trek. At least, she didn't need to sashay barefoot, this time.
BELGIUM – Chayenne Van Aarle. It's common to see this country place when it's not expected to place, and vice versa. Much as this all-around performer's solid, she hasn't earned ample buzz.
BULGARIA – Kristina Plamenova. This software engineering student can be considered one of her country's better performers, but the Bulgarian Breakthrough's still far from assured.
CROATIA – Arijana Podgajski. Scoring three placements in a decade is not something to frown upon, and this economic student does turn heads, though not foreseen to add to the tally.
CZECH REPUBLIC – Sára Mikulenková. Her two immediate predecessors were heavy pre-pageant favorites who fizzled out, so, maybe, the low-key approach might work for this stunner? Or maybe not. It's just frustrating that this country hasn't placed post-Trump Era.
FINLAND – Petra Hämäläinen. The previous edition proved that drought-enders can happen. It's just a question of when (and how), and much as this education major has striking qualities, this may not be the country's time yet.
FRANCE – Floriane Bascou. It's almost common knowledge that this country's national winners don't always compete globally. In some cases, either their runners-up or Miss World crossovers are sent in their stead. Same case applies this year with Diane Leyre, who waived her chance in favor of this medical student from Martinique. Much as she might benefit from her country having the region's longest placement streak, there are other European frontrunners.
GERMANY – Soraya Kohlmann. This gorgeous Pilates trainer was her country's 2017 national titleholder, except that pageant no longer fields its winners abroad. It's nice to see her finally given a shot, and in opportune timing at that. With Jasmine Selberg winning Miss International a month ago, that luck might rub off on her.  Wouldn't it be nice to see this country place again after 20 years?
GREAT BRITAIN – Noky Simbani. Zimbabwe may be MIA for years now, but two of this year's Europeans are of that heritage. This chemical engineer was an also-ran as Miss Grand England 2019, but she's dramatically improved since. And remember, the Brits, along with the French, tend to be the default European choices here lately.
GREECE – Korina Emmanouilidou. On account of this country's spotty participation lately, returning from last year already matters. This model is striking, though one can't help but wonder if Evelina Papantoniou will ever be avenged.
ICELAND – Hrafnhildur Haraldsdóttir. With most pageants expanding their age limit recently, it remains to be seen if joining young will still be an advantage. Here's the teen likeliest to shed that doubt. This 18-year-old student polishes well, whether or not she relaxes those curls.
ITALY – Virginia Stablum. In 1997, the country broke barriers with its first representative of color – the now-legendary Denny Mendez. Amidst the fervent resistance of her countrymen, the Dominican immigrant fought hard and gave an unforgettable performance. It didn't matter that she stopped in the Top Six; a point was made, and minds were opened. 25 years, but sadly, only two placements, later it's uplifting to see the country take that route again, and much more openly at that. This enthralling part-Nigerian ticks all boxes even if she, as many say, played it safe in preliminaries. So, can she finish what Denny started? Well, that might be quite a stretch, but she has all the capacity (and the right) to continue it.
KOSOVO – Roksana Ibrahimi. This country lost steam past its first four placements. It makes you wonder if they jinxed themselves by skipping 2013. Well, this dentistry student is photogenic, but the buzz isn't quite there. 
MALTA – Maxine Formosa Gruppetta. This photogenic half-Brit earned early hype, but one fact remains: the sash has yet to prove its mettle. Can her solid performance finally bring forth a breakthrough?
NETHERLANDS – Ona Moody. Here's the other delegate of Zimbabwean heritage, except, in her case, it's through her father. She has an intriguing look that calls to mind Neneh Cherry, and she has a fun personality. How else can she rock that stroopwafel costume?
NORWAY – Ida Hauan. If that recent surprise Miss Earth placement was any hint, this country may be inching back on track. This pretty redhead may not be guaranteed the same trajectory, but she has sunny presence.
POLAND – Aleksandra Klepaczka. This engineer's an underrated stunner, but Polish placements here are sporadic at best. As early as now, she can look forward to better standing in Miss Supranational 2023.
PORTUGAL – Telma Madeira. She was the heavy favorite in Miss Earth 2018, who frustratingly stalled in the Final Eight. So obviously, she's still bent on settling unfinished business. She couldn't have picked a tougher route, though, since this contest is still starting to warm up to this country. Much as she can still fight for a placement, a crown may even be farther from reach.
RUSSIA – Anna Linnikova. Neither a host delegate nor a former Miss World finalist could keep this country out of the ice over the past decade. Factor in how they're making the news recently and this arts enthusiast's in for an uphill battle.
SLOVAK REPUBLIC – Karolina Michalcikova. It's sad that her stunning national coronation photos didn't translate in her Miss Earth performance last November, but sure, that recent experience served her well. Remember, though that this contest generally ignores this country. Ironic, because it was the first to reward them with a placement upon gaining independence.
SPAIN – Alicia Faubel. She already won the hearts of Filipinos, given that she stayed in Manila for three years and her facility of the Tagalog language is surprisingly strong. She's impeccable, but considering how even the most stunning Spaniards fared here lately, she's in for an intense showdown. And right now, countless others have the upper hand.
SWITZERLAND – Alia Guindi. Frankly, we've yet to see another Lauriane Gillieron-level stunner who can inspire us to, well, not go neutral. Still, it's great to see this dancer presenting strongly and that chocolate-inspired national costume was adorable. Another interesting tidbit: she beat a former Miss Universe Philippines contestant to the national title: Lapu Lapu City's Sashi Chiesa.
TÜRKIYE – Aleyna Sirin. In light of recent developments, her sash now carries her country's native name. Though, it's curious that her national title still carries the now-obsolete English equivalent. This architecture student is a worthy contender, but Turkish milestones are way too far in between in this tilt.

UKRAINE – Viktoriia Apanasenko. By now, one can imagine the harrowing journey she went through just to get to New Orleans. For starters, she had to fly out from neighboring Poland and her vehicle was attacked by drone explosives along the way. Of course, she wouldn't waste a single opportunity to make an evocative statement, from donning her country's colors on her evening gown cape to that jaw-dropping St. Michael the Archangel national costume. On top of that, she's a formidable contender who could use the added platform. But do all those stunts warrant a drought-ender? That depends if the selection committee will be moved enough.